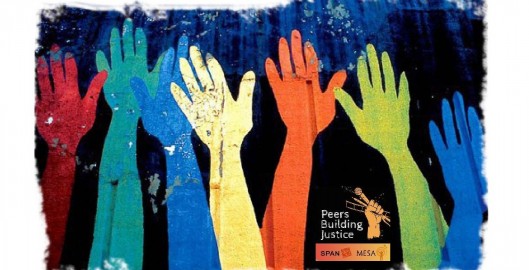 What: MLK Showcase and Community Conversation
When: January 16th, 4-6pm
Where: Alfalfa's Community Room, 1651 Broadway St., Boulder CO 80302
Come attend and participate in our annual Martin Luther King, Jr Showcase led by and for youth, yet all members of the community are invited. This event will showcase the work Peers Building Justice (PBJ) youth have prepared for the community surrounding issues of race, identity, solidarity, and criminality. PBJ is a youth group committed to promoting social justice and resisting violence in our communities. Please come to this event on MLK day if you are interested in exploring student experiences and perspectives around race, racial justice, violence, and overall youth issues. Please spread this email and attached fliers with other community members who are also committed to supporting youth and ending violence. There will be light refreshments and heavy dose of education, conversation, and fun.
This June, eight high school youth joined PBJ for a concentrated Participatory Action Research (PAR) project. The youth spent a total of 10 hours together investigating the question, "How do I engage?" The youth wanted to get a better idea of what motivates them and other youth to engage in their communities and social justice activism.
They began the process by making "mind maps" to illustrate their thoughts on the question. After much discussion, the youth then came up with several sub questions to inform their overall research question. The youth interviewed each other using these questions and took notes. We collected all of the answers on large butcher paper hung around the room. With the data collected, the youth were then tasked with finding common themes and important outliers in the answers given. The students identified these themes using sticky notes and grouped some of them together to illustrate their findings.
After examining the outcomes, the youth then partnered up to create posters with messages they would like to share with their peers – keeping in mind that high school students only have so much time to engage. Yet, they are living proof that in only a few hours, a lot can be accomplished. PBJ hopes these students will continue to be leaders and show their peers how they, too, have something important to say.
The youth organizers of PBJ's Training Institute held their end-of-the-year showcase on Saturday, May 14! The event was held at The Block 1750 and included food, a project gallery, and community conversation centered around the theme: "Let's Talk About Sex, Stress, Stigma and Social Change."
The afternoon began with the youth organizers sharing the projects they had been working on all semester, which examined comprehensive sex education, mental health in AP/IB programs, and LGBTQ+ inclusivity in high school history curriculum. The youth shared their findings through poster presentations and art displays. Attendees were invited to observe and talk with the youth about their projects and findings.
The second half of the event was focused on conversation. To begin, Elissa and Charissa led the attendees through an activity in which they asked a question with two possible answers, and participants had to move to one side of the room or the other based on their answer. For example, one question was, "Do you think stress and anxiety are necessary for being successful in school – yes or no?"
After this activity, the youth organizers led two fishbowl conversations. In a fishbowl, there is a small inner circle of participants who engage in conversation, while everyone else sits outside of the circle and observes. Participants may enter the inner circle if they wish to add to the conversation, and they may leave as they please. This format was used in order to create a space in which youth voices are heard and centered in conversation. The youth organizers brainstormed several questions ahead of time to guide the conversations. The youth followed the day's theme and discussed sex, stress and stigma – primarily in schools. Several event attendees also added to the discussions – including parents, peers and educators.
The showcase concluded with PBJ celebrating another successful year of the Training Institute! The PBJ Coordinators thanked each student for their work with a small gift. We wish the best for our graduating seniors and can't wait to see all of the great work the PBJ youth do in their futures!
Zines created by students at New Vista High School