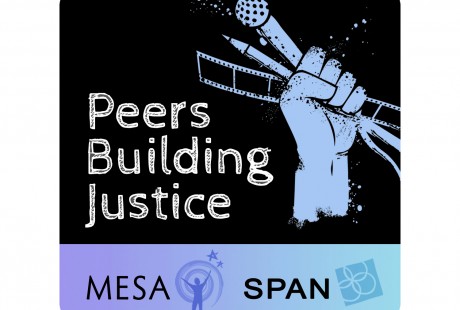 Are you interested in making a difference in your community?
Join Peers Building Justice's Training Institute to discuss social issues and how to take action!
The Training Institute is comprised of high school students from across BVSD and meets twice a month after school. We generally meet every other Monday from 5-7 p.m. in Boulder.
The mission of the Training Institute is to promote social justice and resist violence in our communities. We meet to learn and talk about different forms of oppression including racism, sexism, heterosexism, ageism, classism, able-bodiedism and more. We're also focused on talking about healthy relationships and how to prevent dating abuse and sexual assault.
We believe that youth have the power to affect community change, so we also collaborate to plan events and take action on different issues that matter most to you! If you are interested in learning more or joining us, email pbjboulder@gmail.com and/or like us on Facebook at PBJBoulder.
Calling at BVSD educators!
With the new school year starting, it's once again time to schedule with PBJ to host our curriculum presentations. PBJ uses an evidenced-based youth violence prevention curriculum that is based on Safe Dates & Expect Respect. The full curriculum requires 6-8 hours of class time to complete.
To schedule a curriculum presentation in your classroom or youth group contact:
Jackie Manzo
Youth Violence Prevention Educator, SPAN
303.449.8623
Reina Ross

K-8 Violence Prevention Educator, SPAN
303.449.8623
Below is an outline of material covered in the curriculum.
Session 1: Introductions & Defining Caring Relationships
Introductions, mandatory reporting, goals for sessions, group agreements
Defining Caring Relationships
Session 2: Power and Control & Defining Dating Abuse
Defining power- Individual, Collective, Institutional & access to resources
Defining Dating Abuse– Harmful Dating Behaviors What is Abuse?
Session 3: Why do People Abuse?
Why do people abuse
Video: Causing Pain: Real Stories of Dating Abuse and Violence
Warning Signs of Abuse
Session 4: Sexual Assault, Sexual Harassment, and Consent
Defining Consent & Sexual Assault
Sexual Harassment vs. Flirting
Session 5: How to Help Friends
Why don't people leave?
How to help a friend
Role Play
Session 6: Overcoming Gender Stereotypes
Images and where they come from discussion
Gender Stereotypes in the media video compilation, discussion
Session 7: Identifying and Communicating Emotions
Extending Feeling vocabulary
Knowing When You're Angry/How to use Calming Strategies
Assertive Communication
Session 8: Conclusion
Review of sessions, remaining questions
This June, eight high school youth joined PBJ for a concentrated Participatory Action Research (PAR) project. The youth spent a total of 10 hours together investigating the question, "How do I engage?" The youth wanted to get a better idea of what motivates them and other youth to engage in their communities and social justice activism.
They began the process by making "mind maps" to illustrate their thoughts on the question. After much discussion, the youth then came up with several sub questions to inform their overall research question. The youth interviewed each other using these questions and took notes. We collected all of the answers on large butcher paper hung around the room. With the data collected, the youth were then tasked with finding common themes and important outliers in the answers given. The students identified these themes using sticky notes and grouped some of them together to illustrate their findings.
After examining the outcomes, the youth then partnered up to create posters with messages they would like to share with their peers – keeping in mind that high school students only have so much time to engage. Yet, they are living proof that in only a few hours, a lot can be accomplished. PBJ hopes these students will continue to be leaders and show their peers how they, too, have something important to say.